How Elizabeth Taylor invented modern celebrity
Nowadays, all public celebrities have causes. But not before Elizabeth Taylor. With her advocacy for AIDS research, she made taking very public, very controversial stands acceptable.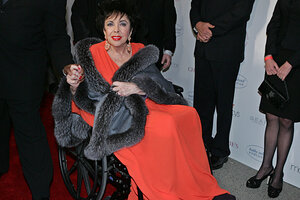 Stefano Paltera/AP/File
Hollywood legend Elizabeth Taylor had a life full of milestones.
The striking British beauty was one of the first child performers to make a seamless transition into adult stardom – a feat even the wildly successful, tap-dancing hit tot of the 30's, Shirley Temple, could not manage. Ms. Taylor was also the first actress to pull down a million-dollar payday – for her role in Cleopatra.
But it was her uncanny understanding of the camera that led to her most important singular contribution, says Chris Auer, chair of the Film & Television department at the Savannah College of Art and Design.
"Taylor paved the way for the modern concept of what it means to be a public celebrity," he says.
Taylor was able to adopt of the HIV-AIDS cause in the mid-'80s – long before it was a national health issue or even spoken of at private functions – "because she understood the power of the camera," Mr. Auer says. "She knew where to stand, and how to throw focus to whatever was behind her in the shot."
As her commitment to the issue grew, she brought the power of the media to the topic, he says.
---