Triangle Shirtwaist fire: 100 years later, how are unions perceived?
The Triangle Shirtwaist fire 100 years ago today gave impetus to the US labor movement, which gathered broad public support. But today, unions aren't seen as positively.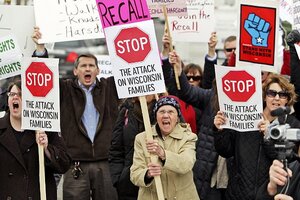 David Joles/The Star Tribune/AP
The Triangle Shirtwaist Factory fire 100 years ago Friday helped bring about workplace protections, and it provided impetus to the emerging US labor union movement.
Francis Perkins, who witnessed the blaze that killed 146 garment workers – most of them immigrant women – and who later became Franklin D. Roosevelt's secretary of Labor, called it "the day the New Deal began." It was during this era that the National Labor Relations Act began prohibiting unfair labor practices.
Meanwhile, labor unions – sometimes in violent confrontation with mill and mine owners – organized into powerful political forces, changing the way of work across the country (bringing a two-day weekend, for example) and spreading to service sectors of the economy and to government bureaucracies.
As the major union-management confrontations subsided – one notable exception being air-traffic controllers early in the Reagan administration – the public grew generally supportive of labor unions.
As the economy faltered, union support waned
But in recent years, and as the economy has faltered, unions have lost public support.
"In 2009, Gallup found union approval dropping to 48 percent, an all-time low in its series dating back to the 1930s," writes Jodie Allen of the Pew Research Center in an analysis this week.
---