Freedom Riders remembered 50 years later [VIDEO]
Freedom Riders celebrated: PBS is airing a new film called 'Freedom Riders' and students are retracing the Freedom Rides on this 50th anniversary of a turning point in the US civil rights movement.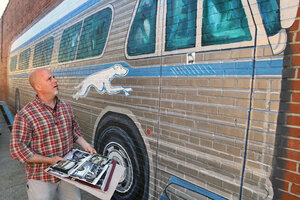 Stephen Gross/The Anniston Star/AP
It's been fifty years since integrated busloads of activists left Washington DC, en route to New Orleans via the Deep South. To celebrate the anniversary, PBS is airing an American Experience film called Freedom Riders.
The film will be broadcast on May 16 at 9 p.m., and will cover the events of the spring and summer of 1961.
The original Freedom Rides started with two buses of civil rights activists on May 4, 1961, with the intention of testing the newly passed desegregation law for interstate travel. Two buses full of Freedom Riders initially set a course through Virginia, the Carolinas, Georgia, Alabama, Mississippi, and Louisiana on interstate highways.
The Freedom Riders were attacked and arrested in the Carolinas, and one bus was firebombed (on Mother's Day) while Ku Klux Klan mobs armed with bats, pipes, and chains beat both busloads of activists on several occasions in Alabama.
---