Mother's Day: What to do if you forgot
Mother's Day came early this year, catching some otherwise-conscientious people by surprise. Here are some ideas for how to celebrate Mom even if you didn't plan ahead.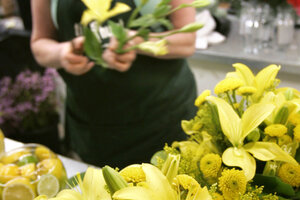 Danny Johnston / AP / File
Mother's Day sits there on the calendar, smiling and innocuous until you realize that it's today, and you forgot to do something nice for Mom.
In fairness, May 8 is the earliest that Mother's Day – always the second Sunday in May – could possibly be. It's not your fault you forgot, it's the calendar's, right?
Yeah, not gonna work.
So what are some instant fixes?
The Mother's Day classic, sending flowers, depends on her location. Some urban areas can still handle a last-minute delivery, but you're looking at steep charges – and the very real possibility that they've run out of flowers.
If you're hoping to pick some up for an in-person delivery this evening, same problem: You're not the only poky little puppy in the crowd, and others have already picked over the selection. Unless you want to celebrate Mother's Day with some mostly-wilted flowers rejected by every other forgetful person in the area, you need a backup plan.
You can send a picture of flowers with a note, which thanks to virtualflowers.com, is both instantaneous and free. They have a nice selection of photographed bouquets, and your mom will assure you that, "It's the thought that counts."
But you might want to plan ahead next year.
If flowers aren't your style, but last-minute is, try ecards, which have been hugely popular this year, if the number of people searching for them on Google is any indication. The selection is limited only by the imaginations of Internet designers.
---