Violent video games: Do parents want help from a nanny state?
Parents weigh in on Monday's Supreme Court ruling, which struck down, by a 7-2 vote, a California law that prevented the sale of violent video games to minors.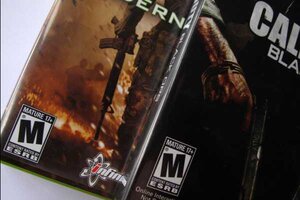 Mike Blake / Reuters
The US Supreme Court has spoken, declaring unconstitutional a 2005 California law that would have prohibited the sale of extremely violent video games to anyone under 18.
But what say parents?
At the food court at the Fashion Square Mall here in Sherman Oaks, there is a wealth of opinion, ranging from "It would have helped," to "Government, stay out of it, and let parents be parents."
Interviews via email and in person from here to Boston – with decidedly unscientific samples – seem to indicate that parents, by a ratio of about 3 to 2, prefer to do their own policing.
"I looked over my son's shoulder as he played a game with young girls being struck by a shovel as they beg for mercy … then the player can pour gasoline over them, set them on fire and pee on them," says Gladys Stone, a single mom with a 14-year-old son. "That's disgusting. I would love to have a law that I could point to and say, 'Sorry Zeke, it's against the law,' " she says.
"It's a parent's job to watch their children and decide what is allowed or not," says Edie Hagmaier, mother of three boys, ages 9 to 14. "Who wants to live in a nanny state? Not me."
Likewise, Lisle and Jim Stigler – head of a middle school and a UCLA psychology professor, respectively – think parents should be able to control their minor child's activities without a law being in place. "I don't allow my kids to purchase any game that includes rape, theft or violence toward women/children," writes Lisle, mother of five boys and one girl, in an email. "Even when they are over 18, I don't allow them to play such games in my house."
---