Paying people to ID violent sports fans: a winning idea?
A California lawmaker wants to set up a fund to pay people who help identify violent sports fans. His legislation comes after brutal attacks this year at Dodger Stadium and Candlestick Park.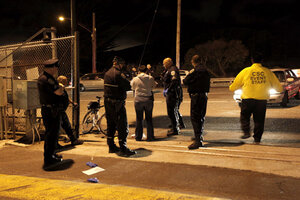 Michael Macor/San Francisco Chronicle/AP
Can violence by sports fans be addressed by legislation?
That's the hope of a California state lawmaker who has introduced a bill meant to deter violent fan behavior at sports events.
While skeptics would note that beefed-up security and reduced alcohol sales, not a new law, might be the more effective solution, some sports sociologists see merit in the idea. It would be another tool in the tool bag for sports franchises and stadium owners to use to keep crowds under control, they say.
The measure would allow for stiffer sentences for people convicted of fighting or attacking others at sporting events. It also would create a fund, fed by mandatory $50,000 annual donations from the California-based sports franchises, to pay rewards for information leading to suspects in such incidents.
"I know a lot of parents who are afraid to take their kids to a ballgame," said state Assemblyman Mike Gatto, the bill's sponsor, in a statement. "That's not the California that I know."
His move comes on the heels of two violent incidents involving fans at sports stadiums in California.
San Francisco Giants fan Bryan Stow, a paramedic and father of two, was attacked from behind in the Dodger Stadium parking lot in Los Angeles on March 31, and he remains hospitalized with a brain injury. After a long search and help from the public, police arrested several suspects.
---