How a savage ballpark beating improved the LAPD's image
The brutal beating of a Giants fan at Dodger Stadium on Opening Day shook the entire city and led to a wave of cooperation with the LAPD – and renewed appreciation for its hard work.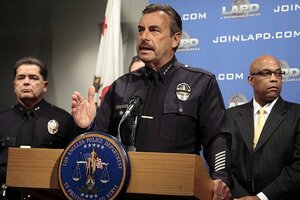 Jason Redmond/AP
Los Angeles, with its long history of notoriously strained police-neighborhood relations, has been basking in recent weeks in the rare warmth of community cooperation with its officers in blue.
The tragedy is that this feel-good moment for the city is the result of a savage beating meted out two months ago to the fan of an opposing baseball team.
The case shook the entire city as well as Major League Baseball.
The beating of San Francisco Giants fan Bryan Stow at Dodger Stadium on Opening Day has led to several weeks of citizen tips, the apprehending – on May 22 – of a key suspect, and the sustained investigation of two others, in which the Los Angeles Police Department is investigating more than 700 leads received from the public.
The LAPD is playing its cards very close to its chest so as not to jeopardize ongoing investigations, says Richard French, of LAPD Media Relations. But he confirms Police Chief Charlie Beck's confidence that Giovanni Ramirez, a parolee and former gang member is among Mr. Stow's assailants because of positive identifications given by those who witnessed the assault.
Police Chief Beck has taken time out more than once to applaud community cooperation.
"Many of you might think that what you gave us was too small to be of value, but we used everything given to us to finally piece this together," said Beck, announcing the apprehension of Mr. Ramirez on Sunday.
---