Why did Major League Baseball take over the Los Angeles Dodgers?
Because the Dodgers are one of the most storied franchises in the history of Major League Baseball, Commissioner Selig's decision has implications far beyond Los Angeles.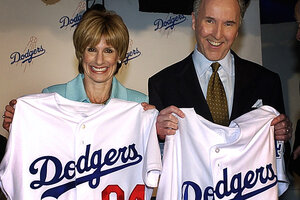 Reed Saxon / AP / File
Fans are reeling, law scholars are debating the legal fallout, and business analysts are examining the corporate lessons from this week's announcement by Commissioner Bud Selig that Major League Baseball is assuming control of the Los Angeles Dodgers.
The decision demonstrates MLB's commitment to do everything in its power to preserve the value of the Dodgers, says baseball attorney Alan Gover.
The team has been reeling from declining attendance, a $30 million personal loan to make payroll, and concerns about safety after an opposing fan was beaten unconscious on Opening Day. Because the Dodgers are one of the most storied franchises in baseball history and home to the second-largest baseball market, the implications are expected to go far beyond baseball and the city.
Commissioner Selig is acting "to ensure that this club is being operated properly now and will be guided appropriately in the future," he said in a statement, mentioning "deep concerns" with the team's finances.
'Too distinguished to fail'
"The continuing deterioration of the 'Dodger blue' label has been as big a threat to baseball as the financial collapse was to Wall St. This is not a case of too big to fail so much as too distinguished to fail," says Jason Maloni, chair of the sports practice of Levick Strategic Communication. "As drastic a measure as this is, people will look back on this as a turning point in Dodger history and a good thing that brought stability."
---