High school seniors smoke marijuana more than cigarettes, survey finds
A new survey of US teens found that nearly 23 percent of 12th graders used marijuana over the last month, compared with 18.7 percent who said they smoked cigarettes.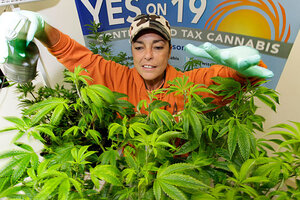 Tony Avelar / The Christian Science Monitor
US teenagers are turning away from cigarettes and alcohol in favor of marijuana according to an annual study released Wednesday by the University of Michigan.
The abuse of marijuana is at its highest level in 30 years, reports the "Monitoring the Future" survey, an authoritative snapshot of drug and alcohol use among US teenagers in grades 8, 10, and 12.
Nearly 23 percent of 12th graders polled said they used marijuana over the last month, compared with 18.7 percent who said they smoked cigarettes.
Cigarette use is down among all three grades, dropping 60 percent during the last 15 years, according to the survey. Among 12th graders, 18.7 percent reported they smoked a cigarette during the past month, compared with 36.5 percent in 1997 – the most recent peak.
Binge drinking is also at a historic low among the combined grades surveyed, down from 41 percent five years ago to 22 percent this year. Binge drinking is defined as four drinks in one sitting for women, five for men.
But researchers speaking at the National Press Club in Washington Wednesday said that teenagers are turning to alternate tobacco products, such as hookahs, small cigars, and smokeless tobacco. Marijuana and prescription-drug use is also on the rise.
Findings among 12th graders show that 36.4 percent used marijuana in the past year while 6.6 percent used it daily, up from 31.5 and 5 percent, respectively, from five years ago.
The reason why marijuana is becoming so popular is that "the perceived risk is down" which creates "the norms against its use to weaken," says Lloyd Johnson, the survey's principal investigator at the University of Michigan.
And fewer "kids view smoking marijuana regularly as having a harmful affect," says Nora Volkow, director of the National Institute on Drug Abuse.
---