'Hunger Games' fandom: Can it become a force for good?
'The Hunger Games' is filled with themes of social justice, but efforts to motivate the fandom to fight hunger and join other causes have faltered. The films could change that.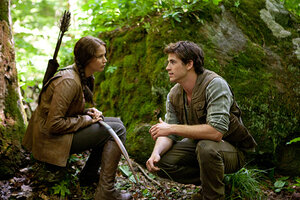 Murray Close/Lionsgate/AP
Themes of poverty, injustice, oppression – and yes, hunger – feature prominently in the story line of "The Hunger Games," the film franchise launching this weekend.
Now, those issues are migrating off the page and silver screen into the real world. Fans of the dystopian world depicted by author Suzanne Collins are being urged to get involved with social-justice issues, such as fighting hunger.
The series is tailor-made for this sort of fiction-to-real world translation, says Catherine Wilson, a political scientist at Villanova University in Philadelphia. "The film has a powerful line" when Katniss, the 16-year-old heroine sent to battle for her family's survival, "addresses the control and manipulation of the food source, proclaiming: 'I refuse to play your game,' " she says in an e-mail.
These words are particularly appealing to the film's young adult audience, says Professor Wilson, who studies social movements. This is "an audience raised on the importance of community service and finding creative solutions to complex social problems."
In February, the World Food Programme of the UN and Lionsgate, the film's distributor, co-created a video to involve "Hunger Games" fans in ending hunger. World Vision, a Christian charity, has more than 100,000 teen "Hunger" fans lined up for an April 27 fast to end hunger.
---