Share of working moms nearing all-time high, but has it gotten any easier?
The percentage of mothers in the workforce is nearing record highs, leading to more societal acceptance and childcare options, but mothers still face a 'mommy wage gap' and other challenges.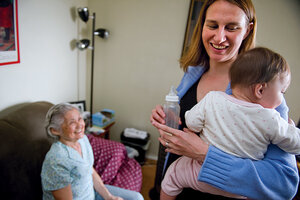 Ann Hermes/Staff
What's become clear in the weeks since Democratic strategist Hilary Rosen said Ann Romney "never worked a day in her life" is that the touchy, judgment-passing hostilities of the so-called mommy wars have not ceased to rankle moms of all stripes.
This latest chapter of the mommy wars – which many saw as a smokescreen for more pressing issues affecting working mothers today, such as comparatively low wages and the lack of quality, affordable child care – sees near-record-high shares of mothers in the workforce, some 70.6 percent.
It's been about 40 years since women, freshly liberated by the feminist movement, began entering the workforce in droves. Four decades later, has it gotten any easier?
For Judith Sornberger, a divorced mother raising twin boys solo in the 1970s, working motherhood was a daily struggle. Though she worked full time as an administrative assistant, Ms. Sornberger lived below the poverty level.
"Those were rough times," Sornberger says. "I remember having to take my sick leave to stay home and care for [my boys], and because I had very little leave, I would go to work sick."
Sornberger went on to remarry and attend college, and is now a professor and director of the Women's Studies program at Mansfield University in Mansfield, Pa. Thirty years later, the world is no longer such a lonely place for working mothers, she says, citing societal acceptance, more child-care options, and increasing accommodation in the workplace.
"But I have to say," she adds, "in some ways, things are not a lot different for working mothers today."
Nonetheless, many things have changed dramatically for working mothers in the last 40 years. For starters, there are simply many more of them. In 1975 some 47 percent of mothers were in the labor force (defined as working or looking for work), according to the US Bureau of Labor Statistics. That number grew steadily in the '80s and '90s, peaking at almost 73 percent in 2000.
---