Obesity in America: Schools on the front line of the fight
With one-fifth of Americans between the ages of 6 and 19 overweight, schools are central in the campaign to fight obesity. Educators, nutritionists hope healthier school lunches, daily recess, and PE requirements can help reverse the trend.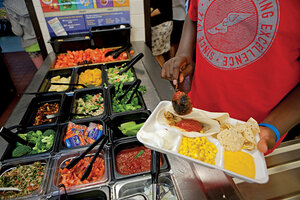 Melanie Stetson Freeman/Staff
Eat better. Move more. That's what more schools are urging young people to do to avoid becoming seriously overweight.
As society tackles obesity, many efforts center on schools' potential to create a generation of children who value staying active and eating balanced, less-processed meals.
"Schools have access to children in [Grades] K through 12 for almost 2,000 days of their lives, so schools have got to play a big role…. The whole goal of education is to change behavior to [make it] more positive," says Rhonda Clements, program director of physical education and sport pedagogy at Manhattanville College in Purchase, N.Y.
A big motivator for school officials may be the statistics: About 20 percent of people ages 6 to 19 were obese in 2008, up from less than 10 percent in 1980, reports the Centers for Disease Control and Prevention.
On the "move more" side of the equation, studies link fitness with better academic performance. Yet a 2011 study of 47 states found that 39 had no daily recess requirement, and 24 had no physical education requirement, Education Week reports.
About half of schools require physical education in Grades 1 through 5, a quarter in Grade 8, and less than 1/10th in Grade 12, Ms. Clements says. One-third of schools don't offer recess on a regular basis, according to a report by the Nutrition and Physical Activity Initiative of the Bipartisan Policy Center (BPC) in Washington, which advocates 60 minutes of physical activity daily in school.
Meanwhile, teachers are getting creative. In Charlotte, N.C., one physical education teacher incorporated measurement, geometry, and spelling into sports, jump-roping, and dance. Over two years, the share of students at or above grade level in math rose from 68 percent to 82 percent, according to a BPC report.
---