Andy Griffith: why we should remember him as more than 'America's Sheriff'
Andy Griffith made his mark as a singer, musician, and, in film, as an odious media manipulator. But he's remembered and loved for his compelling portrayal of good sense and kindness.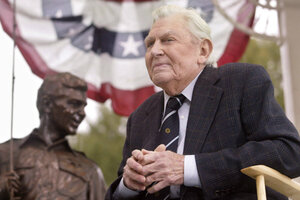 Bob Jordan/AP/File
In the remembrances and appreciations of Andy Griffith – who died Tuesday at his home in Manto, N.C. – Americans are discovering a man of far more breadth and depth than the on-screen persona he displayed in his incarnation as Sheriff Andy Taylor in "The Andy Griffith Show," which ran from 1960 to 1968.
First off, he was a singer and musician whose 1996 album, "I Love to Tell the Story: 25 Timeless Hymns," went platinum. He also had an early career in theater. He could also play very dark with great credibility. That was evidenced by his first film, 1957's "A Face in the Crowd," in which he played a Machiavellian media manipulator with a cackling, Snidely Whiplash laugh. It was directed by Elia Kazan on the heels of Kazan's "On the Waterfront" and "Streetcar Named Desire." Some call it the best film ever on the power and dangers of the media.
But instead of going the route of a street-smart Marlon Brando, James Dean, or other heavies of his time, Griffith turned the corner and became one of the all-time American TV icons for his portrayal of America's sheriff, Andy Taylor.
"Not many people remember this [dark, street-smart] side of Griffith, but I think it shows the consummate actor he was and that he understood the power of that laid-back, folksy, homespun character and chose that intentionally instead," says Kathy Newman, an English professor at Carnegie Mellon University in Pittsburgh.
---