Presbyterian church rejects same-sex marriage
The General Assembly of the Presbyterian Church (U.S.A.) has rejected a bid to redefine marriage as 'a covenant between two people,' voting instead to conduct a two-year study of the divisive issue.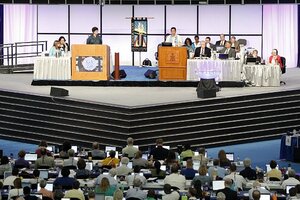 Keith Srakocic/AP
Presbyterians debated for more than three hours Friday whether to change their definition of marriage. In the end, they preserved the traditional meaning, upheld a ban on officiating gay weddings, and sustained related tensions that have roiled their denomination for years.
With a 52-percent majority, the General Assembly of the Presbyterian Church (U.S.A.) shot down a bid at its Pittsburgh meeting to redefine marriage in the church constitution as "a covenant between two people." As a result, marriage is still defined there as "a civil contract between a woman and a man."
The vote means Presbyterian clergy who officiate at gay weddings, even in states and other jurisdictions that recognize same-sex marriages, violate protocol and risk censure. Later Friday night, the Assembly voted to convene a two-year, churchwide study on the theology of marriage.
IN PICTURES: The gay marriage debate
Participants on both sides said the denomination had delayed the "inevitable."
"It was rather surprising," said Mateen Elass, pastor of First Presbyterian Church in Edmond, Okla. and an opponent of redefining marriage. "It's inevitable that at some point our General Assembly will vote in favor of redefining marriage. This decision has just given some respite to the denomination before it faces an onslaught of departures."
Distraught by the narrow defeat, proponents of redefining marriage hugged and consoled one another. They said the church missed an opportunity to be prophetic and would eventually come around.
"The move to affirm long-term, committed, same-sex relationships … as blessings from God is both the right way to go in the long-run, and inevitable," Rick Ufford-Chase, a former moderator of the General Assembly, said in an email. "There are more and more people, of all ages, who are changing their minds about this important matter."
---