In Chicago, heat and homicide stoke fear and frustration
Chicago's surging murder rate is now four times that of New York. With drug cartels battling for turf and gang warfare turning chaotic, how can the Windy City get a handle on its homicides?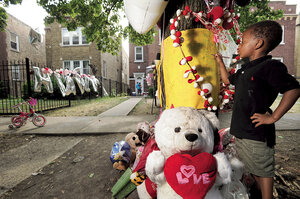 Paul Beaty/Special to the Christian Science Monitor
It's the weekend, but the streets are mostly empty in the Austin neighborhood on Chicago's impoverished far West Side.
"It's summertime! You don't see any kids out here," says Darrell Turner, grilling spits of meat as soul music blares from a radio. "They're too scared to come out." A squeeze of lighter fluid stokes the flames higher. He shakes his head: "different times."
Street violence has beset Chicago's poorest neighborhoods for years, but a spike in homicides since January – many of them shootings on public streets – has adults in neighborhoods like this one corralling their kids at home. That's doubly true since June 27 when, two blocks from where Mr. Turner works his grill, a spray of bullets ended the life of 7-year-old Heaven Sutton, the city's 251st homicide victim this year.
Year-to-date homicides are down in New York City and Los Angeles, but they are up 39 percent in Chicago, with 263 killings by the end of June.
Outrage is building as young children are increasingly caught in the line of fire. The number of public school students shot during the past school year jumped almost 22 percent from the year before, according to police figures. In June and July, more than one-fifth of the killings in each month were of people age 20 or younger.
Says Kaleiah Spencer, a 16-year-old who lives a block from where Heaven was shot: "You can barely walk the streets because you don't know what'll happen, who's going to shoot.
"Here, you hear gunshots, and you can't sleep," she says.
Murder rates need to be analyzed over a much longer period than a few months to track trends, criminologists say. Indeed, Chicago homicides are low compared with decades past – 928 in 1991 versus 433 in 2011, for example.
---