Mississippi most obese state: Southern diet or culture on the skids?
The Deep South has some of the highest obesity rates in the nation, according to the CDC, and Mississippi, once again, is the fattest. But it's not just the fried food that's to blame.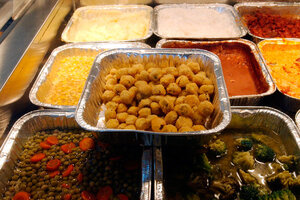 Rogelio Solis/AP
Fried catfish, hush puppies, piles of pork, shrimp po'boys – the delicacies of the South, as a recent obesity report from the Centers for Disease Control and Prevention in Atlanta seems to suggest, are also its enemy.
Southern states are, on par, the chubbiest (with Mississippi topping the list for the sixth year with 1 in 3 adults technically obese).
Most curiously, while the Southern diet hasn't really changed much, the percentage of Mississippians who are obese has more than doubled in the last 20 years, from 15 to 35 percent since 1991 – mirroring in large part what the CDC calls a "dramatic" belt-expansion across the country over that same time span. (A 5-foot-9 adult weighing 203 pounds is considered baseline obese by the CDC.)
But is the salty, rich grub that's become synonymous with the region really the key reason why the South is losing the battle of the bulge? Or is that slab of BBQ ribs too easy of a target?
Some researchers suggest there are deeper cultural explanations to the Southern weight gain that go beyond fried chicken – including attitudes toward work and exercise, cultural norms for portion size, and the myriad daily decisions and associations that go into deciding what's for supper – and that can inform the broader phenomenon of an increasingly fat America.
---