With a puff of smoke, pot becomes legal in Washington: How will this work?
Pot smokers lit up at Seattle's Space Needle to mark its legalization in Washington. Possessing marijuana, however, is still a federal crime, and it's not clear yet if, or how, federal laws will be enforced.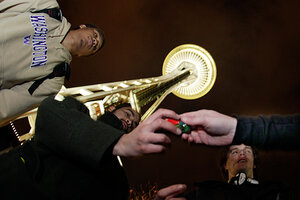 Ted S. Warren/AP
The end of marijuana prohibition in one corner of the United States came peacefully early Thursday morning as groups of pot smokers lit up underneath the Space Needle in Seattle and police interfered only to suggest that people "responsibly get baked."
For the first time since US prohibition commissioner Harry Anslinger boosted federal marijuana criminalization in 1937 by describing it as a "drug which [makes] men forget their homes and [turns] them into swine," the purchase and use of designated amounts of marijuana for recreational purposes became legal at 12:01 a.m. Thursday in Washington. The state, however, has yet to introduce the regulatory and taxing authorities that will govern the growing and selling of pot.
"A once-unfathomable notion, the lawful possession and private use of pot, [became] an American reality this week," writes Gene Johnson, at the Huffington Post.
Described by one pot activist as the day when the "iron curtain of prohibition" began to come down, the moment had the spirit of liberation for many Americans. Critics, however, voiced concerns about the impact legalization would have on addiction rates and the availability of marijuana to young people, while the Obama administration weighed its response.
Colorado voters also agreed to legalize – and tax – marijuana on Nov. 6. That state's law will go into effect on Jan. 6.
The US has spent hundreds of billions of dollars to interdict marijuana shipments since Nixon's War on Drugs began in 1971, and last year incarcerated over 800,000 pot-possessing Americans, three-fourths of them for simple possession.
---