Why American teens are turning from cigarettes to marijuana
A new survey shows that marijuana use among teens continues to rise – and outstrips cigarette use – thanks to the increasing perception that pot is not harmful.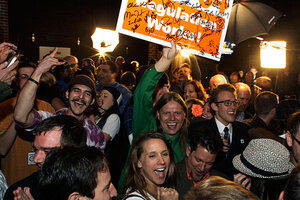 Brennan Linsley/AP/File
A rising share of teens are smoking marijuana – a trend fueled largely by the growing perception among youths that pot use is not harmful, according to a national survey released Wednesday.
Taken together with the decision by voters in Colorado and Washington State to legalize recreational pot – as well as the continued expansion of medical marijuana – the survey points the increasing difficulty of keeping American teens away from marijuana. Indeed, a higher percentage of high school seniors are smoking marijuana monthly than cigarettes.
More than one-third of teenagers acknowledged smoking pot in the past year – continuing a five-year upward trend, the 2012 Monitoring the Future survey found. In addition, 6.5 percent of 12th-graders reported using marijuana daily – a 30-year peak.
These high levels of marijuana use are linked to a diminishing perception of its risk, according to the survey. Some 20.6 percent of 12th-graders see occasional marijuana use as harmful, while 44.1 percent see regular use as harmful. Those are the lowest rates since 1983 and 1979, respectively.
The ballot measures in Colorado and Washington could add to this perception, said Nora Volkow, director of the National Institute on Drug Abuse (NIDA), one of the survey sponsors, at a press conference.
---