Gun control: Is David Gregory's on-air stunt proof of media bias?
Washington police are investigating 'Meet the Press' host David Gregory for holding up a rifle clip on air. Gun control opponents see the incident as proof the media are biased against them.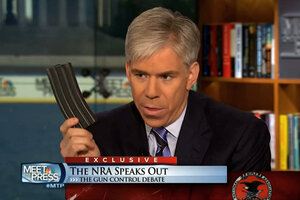 Meet the Press/AP
When NBC News reporter David Gregory held up a high-capacity rifle magazine during a "Meet the Press" interview with National Rifle Association chief lobbyist Wayne LaPierre on Sunday, he not only got himself in trouble with Washington, D.C., police, he ignited a firestorm of criticism from gun owners decrying what they see as a double standard, even bias.
Mr. Gregory displayed the clip on air even though laws in Washington, where the interview took place, expressly forbid the carry and transport of such firearm accessories.
Washington police have opened an investigation into Gregory's decision. The matter should be more bureaucratic than shoe leather since the evidence is there for all to see, but there is apparently confusion about whether NBC got permission for the stunt.
The ATF says it OK'd it, while local police say they declined the request.
"NBC was informed that possession of a high capacity magazine is not permissible, and their request was denied," according to a police statement.
But whether or not Gregory is charged with a crime, opponents of gun control see the episode as further evidence that the cards are stacked against them in the US media, which they see as part of an urban power elite.
---