Parenting shift: Dads boost housework, as more moms seek full-time jobs
A new study signals a major shift in the time spent by men and women on child care, chores, and paid work. Men now spend, on average, seven hours a week on child care, up from 2.5 in 1965.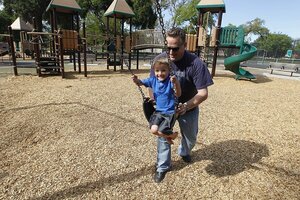 Tony Avelar/The Christian Science Monitor/File
Time use patterns for moms and dads have converged dramatically during the past half century, with fathers spending a lot more time with kids and on house chores, even as mothers spend rising hours at workplaces.
It's not that the division of labor has totally evened out, according to a new analysis by the Pew Research Center, but a major shift in daily household economics has occurred:
Child care. In 2011, fathers with kids under age 18 in the home spent an average of seven hours per week on child care, up from 2.5 hours per week in 1965, according to data collected in nationwide time-use surveys. Interestingly, moms have also put more focus on child-rearing over that time, with child care rising from 10 hours per week to 14.
Chores. Time spent on housework has risen among fathers from four hours per week in 1965 to 10 hours in 2011. For moms, housework time has fallen from 32 hours per week to 18.
Paid work. Mothers with children under 18 spent 21 hours per week, on average, doing paid work in 2011. That's more than double the eight hours they averaged half a century ago. For dads, paid work took up 37 hours per week, down from 42 hours in 1965.
Add those three activities up, and they took up a similar amount of time each week for women (53 hours) as for men (54 hours) in 2011.
For both parents, these tasks are taking up a couple more hours per week than they did in 1965.
"With so many demands on their time, many parents wonder whether they are spending the right amount of time with their children," write Kim Parker and Wendy Wang in the Pew Research analysis.
---