Facebook cracks down on hate speech against women
Women account for more than half of Facebook users. When women's rights activists fired off some 60,000 tweets and 5,000 e-mails to advertisers protesting gruesome images, Facebook took note.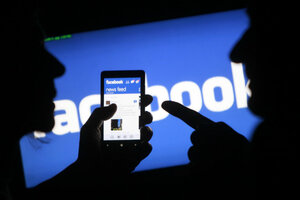 Dado Ruvic/Reuters/File
If Facebook were a city, these would be its seedy back alleys – user-generated groups filled with jokes about rape and domestic violence, captioned over gruesome images of assaulted women.
But after protesters sent some 60,000 tweets to advertisers making note such posts, Facebook this week announced that it is stepping up efforts to eliminate such gender-based hate speech from the site, apologizing that it had "failed to capture all the content that violates our standards."
The announcement came on the heels of a week-long social media campaign by women's rights activists, organized around the hashtag #FBRape, which brought down a barrage of thousands of angry tweets and letters on Facebook and, especially, its advertisers.
Facebook is locked in near-constant fights over its content, ranging from users rallying against changes to the site's layout to those demanding increased privacy settings and more protection of their data.
But what helped lift the #FBRape campaign above the fray of the standard social networking chatter, experts say, may have been the demographic that launched it: women.
Women are the muscle of the social media world, making up the majority of users on sites like Facebook, spending more time and creating more content than their male counterparts, according to Lee Rainie, director of the Pew Research Center's Internet Project.
"We're not a marginalized group on these sites," says Soraya Chemaly, a writer and activist who was among the leading organizers of the campaign. "This isn't some pet project special interest they're supporting – it's more than half their users."
---