Why Rolling Stone boycott backfired, as Tsarnaev cover flies off shelves
The lesson in retailers' boycott of Rolling Stone's August issue – featuring Boston bombing suspect Dzhokhar Tsarnaev – is that publicity of almost any kind pays, say media analysts. The magazine saw its newsstand sales surge.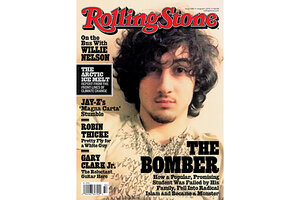 Wenner Media/AP
In today's media wars, there are winners and losers. And then there's Rolling Stone magazine.
Though widely denounced for featuring a glam shot of Boston bombing suspect Dzhokhar Tsarnaev on its Aug. 1 cover, Rolling Stone nonetheless comes out a winner – with sales of that particular issue soaring and the magazine's profile raised in the crowded media marketplace.
Numbers released Wednesday by Magazine Information Network show that newsstand sales of the August issue were more than double the monthly average of the past year, according to news reports. The jump came in spite of refusals by retailers such as CVS and Walgreen's to put that particular issue on their shelves, saying the cover photo glamorizes a suspected terrorist.
Only 5 percent of Rolling Stone's circulation comes from single-copy sales, but the surge in newsstand sales for the August issue, to north of 13,000, is a lesson on how media works in today's communication-saturated environment. The lesson, in short, is that publicity of almost any kind pays.
"Media boycotts most often play into the hands of those who are being targeted," says Ben Bogardus, chairman of the journalism department at Quinnipiac University in Connecticut. If the August issue had simply appeared without comment, it would not have garnered such numbers, he adds.
Beyond that, the controversy revives the magazine's credibility, especially in the eyes of its targeted demographic: young people, says Mr. Bogardus.
"You have a group that sees itself as anti-establishment anyway, and now here is an issue that the Establishment is boycotting. This says to that desired demographic, 'This is really something you should read,' " he says, noting that "you could not pay for" this kind of message-specific advertising.
In an effort to gain traction in a noisy media environment, media outlets try to reflect the social consciousness, says communications professor Joe Valenzano at the University of Dayton. After a certain publication or media outlet is in the spotlight, "people are curious." The public is attracted to controversy, he says, and most people don't pause to consider the underlying conflicts.
---