Molly: what clubgoers say about the drug – and why officials are worried
Molly has been tentatively linked to at least four deaths at East Coast gatherings in the past two weeks. Despite the deaths, some in the electronic dance music scene are unapologetic about the use of Molly.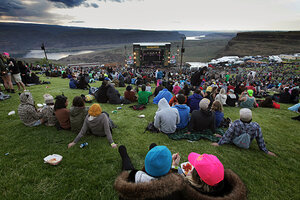 Ellen M. Banner/The Seattle Times/AP
Do you know where I can find Molly?
So go the lyrics of a wildly popular 2012 electronic dance mix by the French DJ Cedric Gervais and voiced by an iPhone Siri-sound-alike. The entire mix is a not-so-subtle reference to the rebranded club drug once called E, X, or ecstasy and now known as "Molly" – a cutesy pun for "molecule," which in turn implies a knowing wink at the purported purity of its complex active ingredient, 3,4-methylenedioxy-N-methylamphetamine, or MDMA.
She makes my life happier.
More exciting.
She makes me want to dance.
It's an anthem for teens and young adults the world over, revelers who "pop a Molly" before they hop into the bacchanalian beat, beat, beat of tangled bodies at music festivals and dance clubs. But it's got city officials and public health officials singing a much different tune.
The subculture of DJs and dance parties has come under fire this week after two revelers died at New York's Electric Zoo Festival, apparently after overdosing on MDMA. This prompted the city to urge organizers of the festival, which has drawn 100,000 attendees each of the past five years, to cancel last Sunday's finale.
"It's very tragic. The bottom line is what you see here is people doing drugs that shouldn't be doing drugs, and you see the fatal consequences," said New York Mayor Michael Bloomberg at a news conference Tuesday. "And when people want to go down that slippery slope and say, 'Oh, it's just fun,' it isn't just fun. There are two families that are not going to have their children come home."
---