Prescription drug abuse now more deadly than heroin, cocaine combined
A new study shows that deaths from prescription drug overdoses have quadrupled during the past decade, suggesting that a stronger response is needed.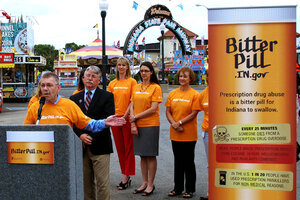 Rick Callahan/AP/File
More people are dying in the United States from prescription drugs than from heroin and cocaine combined, a new study says, signaling that pill abuse is not just the leading cause of drug overdose deaths, but that it also requires more oversight and training by both doctors and state health agencies.
Deaths involving prescription pills have quadrupled between 1999 and 2010, according to a report released Monday by Trust for America's Health, a nonprofit organization in Washington that studies health policy. About 6.1 million people abuse prescription pills, and overdose deaths have at least doubled in 29 states, where they now exceed vehicle-related deaths. In 10 of those states, rates tripled; in four of them, they quadrupled.
"We've been struck how quickly this probably has emerged … it warrants a strong public health response," says Andrea Gielen, director of the Johns Hopkins Center for Injury Research and Policy in Baltimore, who served as a consultant for the report. "We're concerned about preventing misuse or overdoses, which are very real and heart-wrenching problems that have been skyrocketing recently."
Prescription drug overdose rates are highest in the poorest regions of the US: Appalachia and the Southwest. West Virginia has the highest rate, at 28.9 deaths per every 100,000 people – a 605 percent increase since 1999. Following close behind are New Mexico, Kentucky, Nevada, and Oklahoma.
Rates are lowest in the Midwest. North Dakota has the lowest rate of prescription drug overdose deaths, at 3.4 per every 100,000 people.
---