A soccer tournament with a social conscience
The Anti-Racist World Cup in Bologna, Italy, draws more than 200 amateur teams each year who come to build bridges and challenge a history of soccer hooliganism in Europe.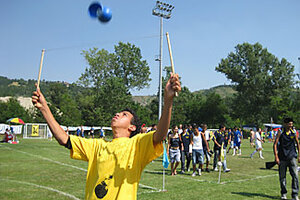 Amanda Wilson
A hot Mediterranean sun parched the soccer fields of Casalecchio as the 204 soccer teams from 27 countries gathered for the 3 p.m. shaking of hands. African political refugees, Italian Roma, Danish feminists, young Ecuadoran gang members from the streets of Genova, and many more all stood in neat lines for the official start.
Moments later, they broke chaotically into the inaugural game of the four-day Anti-Racist World Cup, an extraordinary amateur soccer tournament that takes place each year in this northern Italian town.
The 10-year-old tournament began in response to violence among European "ultras," manic soccer fans whose devotion to a particular professional team is often inextricably linked to a political identity. Soccer fan culture at its worst can produce "hooligans" – aggressive, sometimes nationalist, fans whose antics darken the reputation of all soccer fans.
"Now we are living in a time of peace in Europe, but we use soccer to make war between countries that have historically had problems," said Francesca Veneziano, a Youth Action for Peace volunteer from Rome. She was drawn to the event, she says, because it offers a much-needed response to a violent undercurrent in the soccer fan culture. "People have died in Italy. There are fans who are violent and angry at the police."
But the Anti-Racist World Cup is an unexpected byproduct of the ultra fan base, and although the event has all the trappings of an ultra party – team flags, banners; soccer songs; and the boisterous revelry of sports, music, and beer – the atmosphere is more multicultural festival. On the first night of the tournament, the voices of soccer fans singing at the restaurant tent overlap with Italian folk music and, later, the rhythm of African drums.
---