Dallas Cowboys: Jerry Jones fuels speculation about next head coach
After getting the Christmas spirit kicked out of them with a loss to Arizona, the Dallas Cowboys need to make a decision on how to rebuild this team. Dallas Cowboys owner Jerry Jones must make tough off-season decision. Will it be Cowher, Gruden, or Garrett?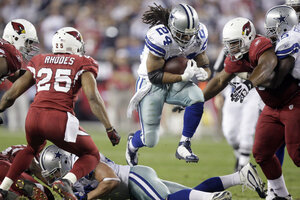 Paul Connors/AP
Dallas Cowboys owner Jerry Jones fueled the rumor mill as a guest on the NFL Network pre-game show before the Dallas-Arizona game on Saturday night. When asked by Deion Sanders if he was interested in either Jon Gruden or Bill Cowher as the head coach of the Cowboys, Jones made an interesting statement.
"I'm a big believer in a challenge and doing something that has never done before. You know there's never been a head coach that won a Super Bowl with one team that won it with another. Never."
Hmmm ...
Might Jones be setting his sights on Bill Cowher? Among available head coaches, Cowher would probably the biggest get in years. But does Cowher want the Cowboys?
---