Will Stanford end UConn's women's basketball winning streak? Hmmmm.
UConn's women's basketball team has broken the NCAA winning streak record, even beating out UCLA's men's team, but Stanford may give them a run for their money tonight.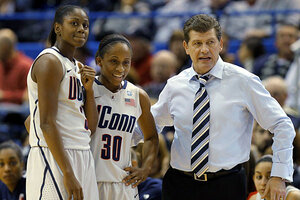 Adam Hunger/Reuters
The University of Connecticut women's basketball team will lose eventually, but when? That's the question that won't go away now that the Huskies have broken the all-time NCAA record for both women's and men's teams with 89 straight wins, and have since added a 90th for good measure Tuesday against an overmatched University of the Pacific squad.
At this rate, UConn just might run the table for a third straight season. Another perfect campaign would again move the Huskies past the John Wooden-era UCLA men's team that became the first team to win 88 straight games and post back-to-back perfect championship seasons between 1971 and 1974.
Still, the streak could conceivably end tonight when UConn goes up against ninth-ranked Stanford in Palo Alto, Calif. (ESPN2 at 9 p.m. ET). While the Cardinal have lost consecutive games to DePaul and Tennessee during a recent rough patch, they crushed fourth-ranked Xavier, 89-52, Tuesday night, a clear indication that they've raised their game a few notches. Then, too, this is the team that last April put a huge scare into UConn.
---