Super Bowl 2011: My life with the Pittsburgh Steelers and Green Bay Packers
Super Bowl teams provide a baby boomer with a look back at how his experiences have intersected, however briefly, with them over the years. The Steelers and Packers will meet Sunday in Super Bowl XLV.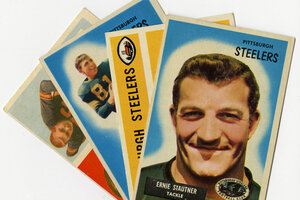 Joanne Ciccarello/Staff
For the sake of full disclosure, let me say right up front that I have never worked for, played on, or been an insider of any variety with either of this Sunday's Super Bowl teams.
My "life" with the Steelers and Packers, as it were, is more fleeting and distant than that, but maybe other baby boomers like myself, who grew up in the 1950s and 1960s, can relate to some of the experiences shared here.
It all began in the late 1950s when I was first introduced to the National Football League. The telecast of the 1958 championship game, won dramatically in sudden death by the Baltimore Colts in Yankee Stadium, was not only a seminal moment for the league, it was the starting point for my interest in pro football – and apparently for millions of other Americans.
The game has often been described as the greatest in NFL history because of the way it captured TV viewers and made pro football, not baseball, the sport of the TV age.
Of course there weren't many games on the tube even after this landmark telecast, so to bridge those one-game-a-week, black-and-white Sunday broadcasts, boys like myself turned to a pioneering weekly magazine, Sports Illustrated, and bubblegum trading cards.
---
Follow Stories Like This
Get the Monitor stories you care about delivered to your inbox.