2011 NFL combine: Alabama QB Greg McElroy nearly aces Wonderlic test
2011 NFL combine: The annual gathering in Indianapolis gives a number of college players the opportunity to show all their talents, including intelligence. Alabama quarterback Greg McElroy performed exceptionally well on the Wonderlic test for potential draftees.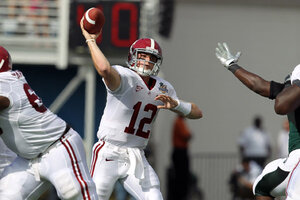 Newscom
There have been some great quarterbacks that have come out of the University of Alabama down through the years.
Bart Starr, Joe Namath, and Ken Stabler immediately come to this reporter's mind.
Greg McElroy may not end up in that class of Crimson Tide signal callers. But he certainly made a name for himself by nearly posting a perfect score on the Wonderlic test the NFL gives to potential draftees.
The NFL uses the 50-question written aptitude test as part of its evaluation process. It must be completed within 12 minutes. McElroy got 48 out of 50 right.
---