Jim Tressel suspended after Ohio State football memorabilia sales
Jim Tressel has been suspended from Ohio State after the university learned that Tressel, the football team's head coach, had withheld information about players violating NCAA rules and continuing to let them play. Jim Tressel issued an apology.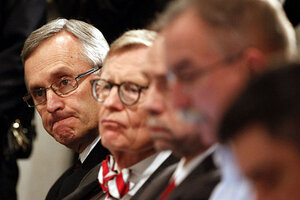 Terry Gilliam/AP
Ohio State University's football coach Jim Tressel had been doing right by the school, winning the 2002 national championship and building a 106-22 record over the past 10 seasons. But, according to a recent suspension, the winning coach didn't seem to do right by university officials last year.
It started in April 2010, when the NCAA was made aware of possible violations by some Ohio State players.
Several players sold Ohio State football memorabilia to tattoo parlor owner, Edward Rife. In exchange for memorabilia such as jerseys and championship rings the players received cash and discounts on tattoos.
Following a federal investigation of Rife, Tressel's lawyer emailed him about the possible violations, naming two specific players who had sold the Buckeyes memorabilia.
Tressel failed to tell university officials about the possible NCAA violation, and then allowed the two players to play the rest of the 2010 season.
On Dec. 7, the university learned of the investigation after the local US Attorney's office contacted them. The university informed the NCAA, and on Dec. 23, five players, including the team's star quarterback, were suspended for five games.
---