Can NCAA really police college football? Miami emerges as test case.
NCAA critics were growing more vocal even before new allegations that University of Miami football players accepted gifts and prostitutes from a booster. Now, the NCAA faces a test of its credibility.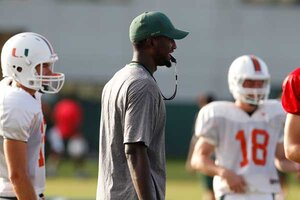 Lynne Sladky/AP
Allegations that a convicted Ponzi schemer masterminded what could be the most shocking scandal in college football history come at a pivotal moment for the National Collegiate Athletic Association.
Already in the past 18 months, college sports' governing body has investigated or sanctioned some of the most powerful programs in college football, ranging from the University of Southern California (USC) to Ohio State and Michigan. Just last week, NCAA President Mark Emmert convened a conference of the chief executives from 50 universities to address how to reform college sports.
The NCAA has clearly tried to send a message that wanton rulebreaking in college sports – such as improper perks for college athletes – is coming to an end.
Now comes word from Nevin Shapiro, the recently jailed former University of Miami football booster, who told Yahoo! Sports he treated 73 current and former players to prostitutes, jewelry, and cash from 2002 to 2010.
Perhaps as never before, the NCAA's credibility as the arbiter of collegiate athletics is on the line, and that means the "death penalty" – shutting down Miami Hurricanes football for at least a year – remains a possibility.
---