World Series history: Cardinals over Texas Rangers in 11 is instant classic
Twice the Texas Rangers were within an out of winning the World Series. But the Cardinals came back in dramatic fashion, and David Freese's walk-off in the 11th grabbed a bit of history.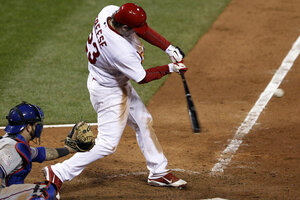 Eric Gay/AP
Move over, Carlton Fisk.
There's a new rival for the title of most thrilling Game 6 in World Series history, and new rival for the title of hero.
At the very least, the 11-inning win by the St. Louis Cardinals is an instant classic, one that enters the top tier of postseason epics.
The game twice took the Texas Rangers within one strike of a world championship. It took fans of both teams on an emotional roller coaster. And it is taking the bat and the shredded jersey of David Freese, who homered to win the game and keep Cardinal hopes alive for a Game 7, to the Baseball Hall of Fame.
It was baseball at its white-knuckle, goose-bump finest.
Part comedy of errors, part battle of managerial wits, and no small part a show of performance under pressure.
A recap of the drama: The teams battled to a 4-4 tie by the dawn of the seventh inning, when the Rangers mustered three-run rally. The Cardinals appeared all but doomed when they closed out the eighth inning still two runs down, missing a bases-loaded opportunity.
All the Rangers had to do was have their closer, Neftali Feliz, get three more outs. The first Rangers title ever would be theirs. And Feliz almost accomplished the job. But in the ninth, with two outs and two men on base, Freese tripled to tie the game and send it into extra innings. The Rangers answered with two runs in the top of the 10th.
---