BCS National Championship Game: LSU vs. Alabama in football rematch heaven (+video)
LSU and Alabama will play for all the marbles Monday night in New Orleans. Will the national title game resemble the regular season's first meeting?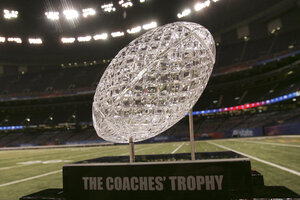 Rob Carr/AP/File
As sports rematches go, tonight's Louisiana State vs. Alabama game (8:30 ET on ESPN) ranks as college football's version of the famous "Thrilla in Manila" title fight between Muhammad Ali and Joe Frazier back in 1975.
That famous heavyweight bout held in the Philippines represented the rubber match, the one that broke the 1-1 tie in their fierce personal rivalry.
As Frazier's experience shows, winning rematches is not easy, and that's one reason why the Bowl Championship Series (BCS) National Championship game is so intriguing. Although Louisiana State won this season's first meeting of the two teams in November, the outcome was only decided by a slim margin – an overtime field goal – in a defense-a-thon. In a rarity for a game played with good field conditions, neither team was able to score a touchdown in a 9-6 battle of placekicks.
As LSU goes for its third national title since 2003 and Alabama its second in the last three years, there really is no underdog in this game. LSU enters ranked No. 1 in the nation not only the basis of that squeaker over Alabama (nailed down in unfriendly Tuscaloosa, Ala.), but also by virtue of the team's perfect 13-0 record. Alabama (11-1) is second ranked and may have the psychological advantage that often seems to fall to the team that loses in the first meeting.
---