Tweet this: NFL Pro Bowl players get to share thoughts real-time
The NFL is hoping to kick up its Pro Bowl ratings Sunday by allowing players to Tweet from the sidelines during the game. Some think that's a silly distraction for players.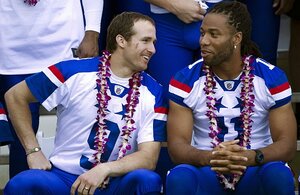 Marco Garcia/AP
As Super Bowl week kicks off Sunday with the Pro Bowl playoff in Hawaii, the NFL is hoping to kick up its ratings with the announcement that players will now be allowed to Tweet from the sidelines during the game.
The league has a strict policy against using social media during playtime for the regular season games, but as spokesman Jon Zimmer said from Honolulu where the game will be played, "We are always looking for ways to experiment with new ideas."
"This game is a good venue for us to try out some new things," he said.
How well do you know the New England Patriots before Tom Brady? Take our quiz
To be sure, social media has exploded as a way to connect fans and players more directly. But while the move may make sense from a marketing point of view, some critics question the intrusion of more social media opportunities into a professional game setting.
"I don't think this is a good idea," says Kelly Lux, the Online Community Manager at the School of Information Studies at Syracuse University in New York, and host of Community Manager Chat.
---