Michael Vick, Tiger Woods among US's most disliked athletes
Michael Vick has helped the NFL's Philadelphia Eagles get to the playoffs. But Michael Vick, Tiger Woods, and other athletes are some of the most disliked pro athletes in the US, according to a recent study.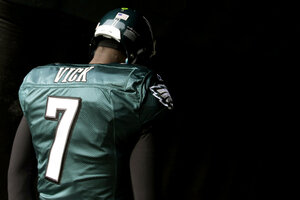 Matt Slocum/AP/File
Even after winning the NFL's Comeback Player of the Year award and getting the Philadelphia Eagles in playoff contention the past two seasons, quarterback Michael Vick is disliked by over half of those asked in a Nielsen/E-Poll endorsement score poll.
The results of the poll were published in Forbes magazine. Those who took the poll could respond to each athlete with a vote of "dislike," "dislike somewhat" or "dislike a lot."
Vick earned a 60 percent dislike score to lead the group of professional athletes. Poll respondents still remember Vick's guilty plea and jail sentence for running a dog-fighting ring out of his home.
Tiger Woods also registered a 60 percent dislike vote from those polled. But the PGA golfer, who's playing in this week's AT&T Pebble Beach National Pro-Am, comes in second due to fewer 'dislike a lot' votes.
---