NCAA tournament 2012: How did those teams get in?
There are questions every year about why certain teams are invited to the NCAA basketball tournament and others not. The author looks at the 2012 'March Madness' field.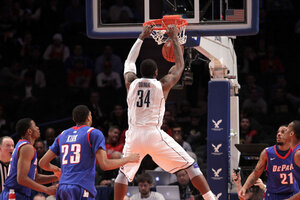 Seth Wenig/AP
Sunday night's NCAA basketball tournament selection show, at least with regard to the first few seed lines, carried relatively few surprises, and was generally well received by analysts across the broadcast spectrum.
But the waters were roiled a bit when earlier on Sunday, North Carolina fell to Florida State in the Atlantic Coast Conference (ACC) tournament championship game – followed by Michigan State's win in the Big Ten tournament title game over Ohio State. Kansas, favored by many to receive one of the four #1 seeds, lost last Friday to Baylor in the Big 12 tournament semifinals, and as a result, fell to a #2 seed as Michigan State took the final #1 seed in the West region.
It was a bit unsettling to hear Jeff A. Hathaway, the chairman of the NCAA selection committee, say at midday on Sunday - before the championship round of the Big 10 and ACC tournaments had even commenced - that the committee had basically finished its work, while allowing for various "contingencies," which he did not elaborate on.
---