MLB Opening Day: 'Batter up!' for fast facts on the 2012 season
MLB Opening Day: A quick overview on the 2012 season, from the re-branded Marlins to a new ticket trend. MLB Opening Day is, in reality, a night game at the new Marlins ballpark in Miami Wednesday.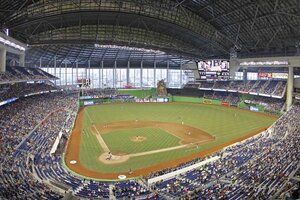 Alan Diaz/AP
Forget the two games the Oakland A's and Seattle Mariners played in Tokyo last week. The real launch of the 2012 Major League Baseball season occurs tonight in Miami. The game will be televised on ESPN at 7 p.m. ET.
The Marlins have undergone a major makeover with a new name (Miami instead of Florida Marlins), new uniforms, a new manager (Ozzie Guillen), and a new steel-and-glass, baseball-only, retractable dome stadium with fish tanks behind home plate and a mechanical home-run "structure" with spinning marlins and splashing water.
Miami hosts the St. Louis Cardinals, the defending World Series champions, who lost their biggest star (Albert Pujols) to free agency and the Los Angeles Angels, and their manager of many years (Tony La Russa) to retirement.
---