NBA Finals: Thunder overcomes 'opening night jitters' to cool off Heat, 105-94, in Game 1
Oklahoma City shrugged off a seven-point halftime deficit to defeat Miami in Game 1 of the NBA Finals in Oklahoma last night. Game 2 will be Thursday night.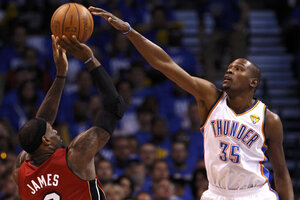 Jim Young/REUTERS
The Miami Heat got off to a blazing start last evening, led by Shane Battier's three 3-point shots in the first period. But the Oklahoma City Thunder defense clamped down on Miami in the second half and then spent the balance of the fourth period running away from them to win Game 1 of the NBA Finals, 105-94, at Chesapeake Energy Arena.
The Thunder suffered a boat-load of turnovers in the first period (though they finished with a modest total of ten for the game), and their loose and porous perimeter defense gave Miami some wide-open looks. However, Oklahoma City righted the ship heading into halftime with some pinpoint-accurate shooting by Kevin Durant, and a couple of timely buckets by Derek Fisher, who, playing in his eighth Finals, lent some needed stability to the Thunder's youthful and nervous squad.
Another factor that gave Oklahoma City encouragement was the questionable decision by Miami head coach Erik Spoelstra to remove Battier in the first five minutes of the first period, after he had hit for nine quick points. After he was pulled, Battier could be seen on the bench frowning and whispering incredulously to teammate Mario Chalmers, "I'm hot!"
---