Felix Hernandez is perfect, but the return of the Dead Ball Era? Nah.
Felix Hernandez pitched the third perfect game of the major league season – a record. But several factors suggest that the current pitching dominance could be part of a normal cycle.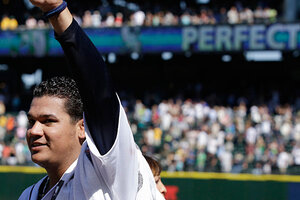 Ted S. Warren/AP
Felix Hernandez's perfect game against the Tampa Bay Rays Wednesday afternoon was a sublime display of pitching. But if you've been following Major League Baseball this season, it was starting to look a little familiar.
True, even by already lofty perfect game standards, the Seattle Mariners ace was dominant Wednesday, striking out 12 in no-nonsense fashion without even one miraculous fielding play to keep it going.
However, King Felix's performance was just the latest yield this season in a surprisingly fertile crop of no-hitters and perfect games that have come to define 2012 as one of the great pitching years in MLB history.
But is this strikeout-crazy season an anomaly, or the culmination of a variety of factors favoring the defense – and making it harder for the poor sap at the plate?
Perhaps a little bit of both. If you're a baseball fan who revels in the jittery excitement of a potential no-hitter, the 2012 MLB season has been an anxiety-ridden treat.
Felix's outing was the third perfect game since Opening Day, and the sixth no-hitter. Three of those were at Safeco field, the Mariners' home base in Seattle. To put those numbers into perspective, there have been only 24 perfect games since Major League Baseball began tracking such things in 1880. Typically, a perfect game comes along a few times per decade (in a good decade, that is). Three in a single season is a major league record.
---