NFL rookie QB roundup: Is Robert Griffin III now head of the class?
Five rookie quarterbacks started their teams' season openers Sunday. Results were mixed for Andrew Luck and Russell Wilson. But Robert Griffin III put in a sparkling performance.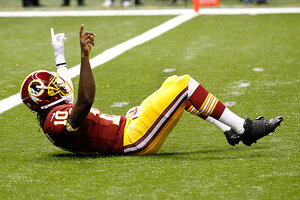 Bill Haber/AP
If Week 1 of the NFL season has taught us anything, it's this: The days when rookie quarterbacks got to ride the bench for a few years and gradually learn offenses behind seasoned veterans are numbered, if not gone completely.
The five true rookies who made their National Football League (NFL) debuts as starters Sunday did so carrying the expectation that they would be able to lead their teams like professionals straight away – expectations born from the increasing sophistication of the college game and the growing necessity for NFL teams to have marquee gunslingers.
It's a lot of pressure, and while some thrive under the increased scrutiny and attention, others buckle. Last season, four true rookies made their NFL debuts as starters, and their performances ranged from Cam Newton's historic highs to Blaine Gabbert's Jaguars-worthy depths. How did this year's crop fare in their first week?
Andrew Luck, widely described as the most NFL-ready college quarterback in 20 years – and perhaps ever – looked like something during his rookie start that nobody expected: a rookie. The first overall draft pick had a rocky start in the Colts' 41-21 loss to the Chicago Bears, throwing three interceptions and fumbling once in an outing where he was given the bulk of the offensive workload (throwing the ball 45 times for 309 total yards and one touchdown).
---