Ryder Cup: Tiger vs. Rory, US vs. Europe for golf dominance
The Ryder Cup golf matches are taking place this weekend near Chicago. The US will try to wrest control of the 85 year-old Ryder Cup from a determined European squad, led by Rory McIlroy.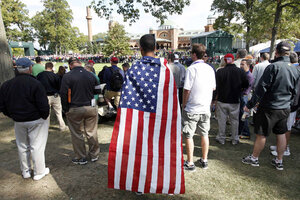 Jeff Haynes/REUTERS
The 39th edition of the Ryder Cup golf matches between the US and Europe begins Friday at Medinah Country Club, outside Chicago.
The biennial matches, which began in 1927, were the brainchild of Samuel Ryder, who brought top golfers from the US and Great Britain together to compete in team match play.
Over the years, the US has captured 25 Ryder Cups. The team that first represented Great Britain and Ireland began to add golfers from the European continent in 1979, and has won 11 Ryder Cups, with two ties.
The format of the Ryder Cup is a team competition, consisting of two-man alternate shot foursomes and two-man four-ball or best ball Friday and Saturday. In four-ball, each golfer plays his own ball. The player with the best score on any given hole between the twosome is the score that is recorded for his team. Sunday consists of a dozen singles matches. All competition is match play.
---