Pablo Sandoval: Where the Giants got 'Kung Fu Panda' and other nicknames
Third baseman Pablo Sandoval (aka 'Kung Fu Panda') made the history books with three homers in the World Series. Sandoval takes his place alongside the 'Say Hey Kid' as a player and name sure to be long remembered.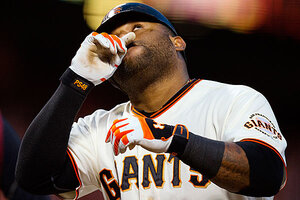 (AP Photo/The Sacramento Bee, Jose Luis Villegas)
Game 1 of the 2012 World Series was not only a big night for Pablo Sandoval but for player nicknames as well. The roly-poly San Francisco Giants third baseman, whose nickname is Kung Fu Panda, became the first player in history to homer in his first three at-bats in a World Series game, propelling the Giants to a 8-3 win over the Detroit Tigers.
The moniker of the lovable Venezuelan, whose three-homer game is matched only in Series play by Babe Ruth (twice), Reggie Jackson, and Albert Pujols, has helped to engrave Sandoval's persona into San Francisco's baseball lore as much as the nicknames of the four former Giants who took the field Wednesday night. Participating in ceremonial first-pitch duties were Hall of Famers Willie Mays, Orlando Cepeda, Willie McCovey, and Gaylord Perry.
As players, they had memorable nicknames of their own. Mays was known as "The Say Hey Kid," stemming from his tendency to greet people with the words "say hey." Cepeda, who hails from Puerto Rico, answered to "Cha Cha." McCovey, who was honored by having the bay waters beyond AT&T Park's right-field bleachers named McCovey Cove, was called "Stretch" for his reaches for throws at first base. Perry, who spent the first 10 years of his 22 years in the big leagues with the Giants, gained his "Ancient Mariner" nickname playing for Seattle late in his career ( "The Rime of the Ancient Mariner" is a famous British poem).
As for how Sandoval came to be called the Kung Fu Panda, well, that was the inspiration of his Giants teammate Barry Zito, who several years ago made the connection with the cuddly hero of a 2008 DreamWorks computer-animated action comedy of the same name "Kung Fu Panda."
---