Robert Griffin III plays like Tim Tebow, only better
Robert Griffin III, aka RG3, gives NFL fans something different by running the triple option offense. But RG3 must continue to evolve his QB skills to survive in the NFL.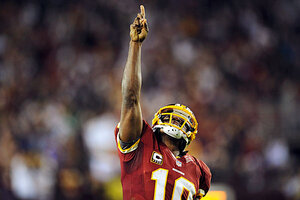 (AP Photo/Nick Wass)
After watching Robert Griffin III lead the Washington Redskins to a 17-16 win Monday night over the New York Giants, something jumps out: If you look closely, he's basically a really good Tim Tebow.
The Redskins (this year) and Broncos (last year) offenses are built on the triple option – a scheme that creates indecision among defenders because the quarterback himself can keep the ball as a running back. The scheme also makes it easier for quarterbacks to pass the ball, since defenses often have to over-commit to stopping the run.
This helped Tebow lead the Broncos to the playoffs, even though he was – by many measures – a poor passer. The difference is that RG3 is an exceptional passer, so he can routinely hit the receivers left open by the confusion that the triple option creates.
In essence, RG3 is Tebow 2.0.
The catch is that triple option quarterbacks – by doubling as a running back – take a lot of hits. The Redskins coaching staff will have to decide whether it continues with the triple option in years ahead or adjusts its schemes to let RG3 become a more typical pocket passer (who takes fewer hits). RG3's intelligence and skills suggest he's capable of evolving.
Former San Francisco 49er quarterback Steve Young, now an ESPN analyst, said Monday that the triple option has to be a transitional plan to give RG3 a soft landing in the pro game, not a long-term strategy. As a mobile QB who was knocked out of the game by concussions, Young speaks from experience.
---