NHL, union make tentative agreement to end lockout
After 113 days and overnight negotiations, the National Hockey League seems to be on the verge of an agreement with the players' association. There will be changes to pension plans, the players' share of hockey-related income, and salary caps.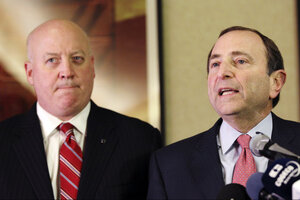 Mary Altaffer/AP/File
Hockey is back, and it took nearly four months and one long night to get the game back on the ice.
With the season on the line, the NHL and the players' association agreed on a tentative pact to end a 113-day lockout and save what was left of a fractured schedule.
Commissioner Gary Bettman and union executive director Donald Fehr ceased being adversaries and announced the deal while standing side by side near a wall toward the back of the negotiating room and showing a tinge of weariness.
"I want to thank Don Fehr," Bettman said. "We went through a tough period, but it's good to be at this point."
A marathon negotiating session that lasted more than 16 hours, stretching from Saturday afternoon until just before dawn Sunday, produced a 10-year deal.
"We've got to dot a lot of Is and cross a lot of Ts," Bettman said. "There's still a lot of work to be done, but the basic details of the agreement have been agreed upon."
Even players who turned into negotiators showed the strain of the long, difficult process.
"It was a battle," said Winnipeg Jets defenseman Ron Hainsey, a key member of the union's bargaining team. "Gary said a month ago it was a tough negotiation. That's what it was.
"Players obviously would rather not have been here, but our focus now is to give the fans whatever it is — 48 games, 50 games — the most exciting season we can. The mood has been nervous for a while. You want to be playing. You want to be done with this."
---