Cubs leave Wrigley Field? North Siders call $300 million plan a strikeout.
The Chicago Cubs want to upgrade Wrigley Field with $300 million in renovations. But locals worry that the changes could hurt the neighborhood and the park.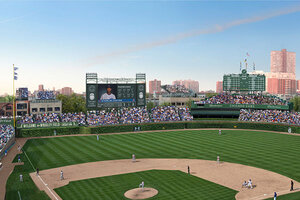 Chicago Cubs/AP
To Major League Baseball fans, the Chicago Cubs without Wrigley Field is like a hot dog without mustard or a Cracker Jack box without a toy.
The scenario may sound improbable for long-time fans of the North Side's lovable losers, who have not won a World Series since 1908, but on Wednesday Cubs Chairman Tom Ricketts told a meeting of business leaders he would "consider moving" the team from the 99-year-old ballpark if the city did not approve his controversial $300 million renovation plan.
It was the same conundrum faced by Boston's Fenway Park not too long ago: Baseball's last two legacy parks are not designed to accommodate the revenue-generating aspects of the modern baseball experience, from extensive food and drink options to plenty of entertainment and parking galore. A $285 million renovation of Fenway – most notably adding the now-iconic seats atop the Green Monster – eased the 1912 park into the 21st century.
Now the Cubs are trying to do the same for Wrigley, built in 1914, but that means putting the local community in a bind. Mr. Ricketts imagines a 6,000-square-foot video board, 40 more night games, extended beer sales, the expansion of an adjacent club, and the right to shut down neighboring Sheffield Avenue for street fairs. He also wants to build a nine-story luxury hotel and office building across the street from the ballpark, and a walkway that connects both to Wrigley Field.
In other words, the very things that make Wrigley unique – its intimate place in a quaint North Side neighborhood – are precisely what need to change to help the Cubs generate more revenue. City officials, neighbors, and business owners say the changes will impact density, increase public safety concerns, and destroy the nostalgia factor.
---