Heat, Grizzlies bring opponents to elimination brink in NBA playoffs
Monday night, Miami beat Chicago, and Memphis outlasted Oklahoma City to each go up 3-1 in their respective NBA Eastern and Western Conference semifinal playoff series.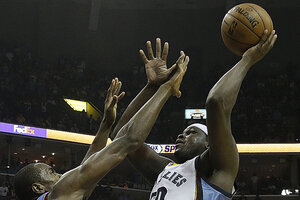 Danny Johnston/AP
Miami Pushes Chicago to Brink With Win
The Miami Heat, in the absence of Chicago starters Derrick Rose, Luol Deng and Kirk Hinrich, has feasted on the Bulls' depleted squad. And nowhere was the effect more roundly felt than in Chicago's United Center Monday night. Early in the fourth period, vacant red upholstered seats outnumbered Bulls fans while Chicago scored an all-time playoff low of 65 points - thereby allowing the Heat to win, 88-65, and take a commanding three games to one lead in their Eastern Conference semifinal series.
The Bulls couldn't hit anything for 48 minutes. Their field goal percentage was an abysmal 26%, and they made only 11% of their 3-pointers. The Bulls did manage to get four players into double figures; but Nate Robinson, who'd been Chicago's anchor in their Game 1 victory with 27 points, was all but invisible: scoring 0 points in 32 minutes on the floor, with no baskets in 12 attempts. Bright spots included Bulls bench players Richard "Rip" Hamilton, who had 11 points and 4 assists in 22 minutes of playing time, and Taj Gibson, who had 9 rebounds to go with 10 points in 21 minutes on the court.
---