Belmont Stakes 2013: Will it be Orb, Oxbow, or another horse?
Belmont Stakes: In the wake of tropical storm Andrea, the track will be wet. Does that favor Orb, Oxbow, or one of the other 12 horses racing Saturday on Long Island, N.Y., for the final Triple Crown race for this year.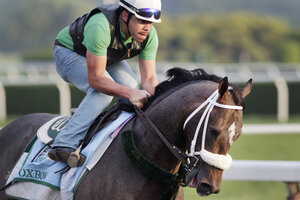 Mark Lennihan/AP
O, for a horse race Saturday when the 145th Belmont Stakes takes off from the starting gate near the Big Apple.
Orb, winner of this year's Kentucky Derby, meets Oxbow, the Preakness winner, and 12 other horses in the mile and a half race at Belmont Park, just outside New York City.
Orb will start from post position No. 5. Trainer Shug McGaughey, whose thoroughbred racing office is located at Belmont, feels like his horse will be in a good position to handle whatever might come his way.
"I think, on paper, there is going to be a bit of a pace, so he'll be able to kind of drop out of it and dictate what he wants to do. If there isn't, and they're going in :49 and some change, then he can be laying up there. I just hope he has some place to go when the time comes," McGaughey told NYRA.com Wednesday.
---