NFL Week 4: Seahawks, Broncos, and Patriots look to stay perfect
After this weekend, one-quarter of the 2013 NFL season will be complete. There are several games Sunday that should get your attention.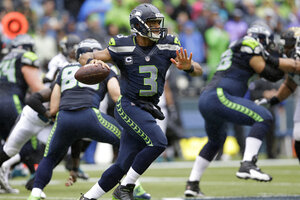 Ted S. Warren/AP
Following a slew of upsets and wild finishes in Week 3, the NFL's first quarter comes to a close with a handful of can't-miss matchups.
For preseason playoff hopefuls like the New York Giants (0-3), Washington Redskins (0-3) and Pittsburgh Steelers (0-3), Week 4 plays out as a must-win to right the ship and turn the team in the right direction. The surprising upstart Kansas City Chiefs (3-0) and Miami Dolphins (3-0) look to ride their momentum and remain undefeated but face tough tests. All this action and still none of these story lines feature in Week 4's most enthralling games.
One of the games at 1 p.m. Eastern time pits the NFL's two best statistical defenses against one another when the Seattle Seahawks (3-0) travel to Reliant Stadium to face the Houston Texans (2-1).
Coming off a sluggish performance in Week 3 against the Baltimore Ravens, Houston's defense, led by NFL Defensive Player of the Year J.J. Watt, will look to hunker down against the Russell Wilson-led Seahawk offense that runs heavily to open up the pass. Houston will have to establish a running game early against the NFL's best secondary, led by cornerbacks Richard Sherman and Brandon Browner. Both teams will look to dominate possession, which figures to be essential to winning in this defensive struggle, a fact Pete Carroll understands.
Carroll reflected on his game strategy telling The News Tribune of Tacoma, "Taking care of the football and getting after it. To us, it's the biggest factor that determines winning and losing." While Carroll hopes his team will see more of the ball, you can bet Houston running back Arian Foster will do all he can to keep it in the Texans' hands.
From defense to offense, the marquee matchup of the 4 p.m. Eastern games features two of the most explosive offenses in the league as the Denver Broncos (3-0) host the Philadelphia Eagles (1-2) at Mile High Stadium.
Three weeks removed from their spectacular unveiling under new head coach Chip Kelly, the Eagles find themselves on the wrong side of .500, facing a Broncos offense that is hotter than any team in recent history. Peyton Manning comes into the game at the top of just about every passing category, leading many to compare Manning's output this season to that of Tom Brady's in his record-setting 50 touchdown season of 2007.
---