States drop GED: At $120 a pop, some say test is just too expensive
(Read article summary)
States drop GED, which will be available in the future only on computer. It's a historic shift away from the test that set the standard for high school equivalency certification for more than 70 years.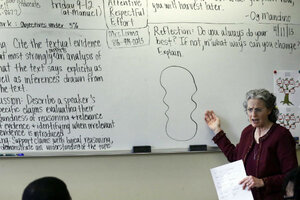 Orlin Wagner/AP
States are dropping the GED for alternative high school equivalency tests out of concern that the new computerized iteration, to be launched in January, is too expensive.
The General Education Development exam has been synonymous with high school equivalency certification since 1942, when it was created to help veterans returning from World War II. States are ultimately responsible for awarding diplomas, but they have relied on the GED for testing.
However, a new version of the GED, which will be offered only on computers and will cost $120 (double the current price), has prompted states to seek alternative tests from competing education companies.
"The national situation is definitely fluid," Tom Robbins, Missouri's director of adult education and high school equivalency, told the Associated Press.
New York became the first state to contract with a new company its high school equivalency exam. In March, it awarded a three-year, $8.4 million contract to CTB/McGraw Hill, which created the Test Assessing Secondary Completion (TASC), reported The Wall Street Journal.
Montana and New Hampshire have also switched to a new exam offered by Education Testing Service, the company that developed and administers the GRE and TOEFL exams, which will cost $50 to $60. The new High School Equivalency Test (HiSET) will launch in January, according to the ETS website. Cost influenced both states' decisions, with Montana's Superintendent of Public Instruction Denise Juneau saying that residents "looking to improve their economic situation by obtaining a high school equivalency diploma should not have to overcome a significant financial barrier in order to achieve that goal," reported the Associated Press.
---