Suspicious letter for Obama surfaces, after one for senator tests for ricin
(Read article summary)
The interception of the letters appears to demonstrate the effectiveness of security protocols put into place after the anthrax attacks in 2001. The letter that already tested positive for ricin is undergoing further analysis.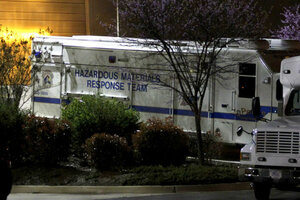 Molly Riley/AP
After a letter addressed to Sen. Roger Wicker (R) of Mississippi tested positive for the poison ricin, reports came out Wednesday about a second, similar letter – addressed to President Obama.
That letter, intercepted at a mail facility away from the White House, appeared to be from the same sender, NBC News reported, citing unnamed officials.
Before news came out about the second letter, Sen. Claire McCaskill (D) of Missouri told The Associated Press that the police have one suspect in mind. A person who "writes a lot of letters to members" of Congress is a suspect in the investigation, she said after emerging from a classified briefing.
US Capitol Police (USCP) and the Federal Bureau of Investigation would not comment on a potential suspect.
The letter addressed to Senator Wicker was intercepted at a Senate mail facility in Prince George's County, Md., outside Washington. Police were notified that the mail center received "an envelope containing a white granular substance," said Capitol Police spokesman Shennell S. Antrobus.
---